US Speedo Custom Speedometer Products
US Speedo specializes in better than OEM quality custom gauge faces. Our Stainless, Aqua, Stealth, and Rose Gold Edition Stainless Steel custom gauge faces are cut from high grade stainless steel for a great look and superior durability. US Speedo Daytona Edition custom gauge faces are designed to match your vehicle's accent color and made using the same production processes and materials used to create OEM faces. Unlike the digitally printed faces found on the market today, our gauge faces are guaranteed not to crack or deform under the normal rigors of hot and cold found in your vehicle's interior. We also manufacture custom and replacement needles and lenses to give your vehicle that extra custom look. Want custom lighting? Why not add an led lighting kit for your speedometer or entire dash! From custom to replacement, or repairs to product support, you'll find what you need here in our products section.
US Speedo Stainless Edition Custom Gauge Face
Our Stainless Edition Faces are the premiere stainless gauge face product on the market. Since 2003, our patented gauge faces have set the industry standard in quality and design. These kits are available with various daytime and nighttime color options.
Shop Stainless Edition
US Speedo Aqua Edition Custom Gauge Face
The Aqua Edition Kit is the perfect solution to give the interior of your vehicle a high end look. These gauge faces are manufactured with the highest quality 100% stainless steel and receive a blue anodized coating for our trademark Aqua Edition finish.
Shop Aqua Edition
US Speedo Stealth Edition Custom Gauge Face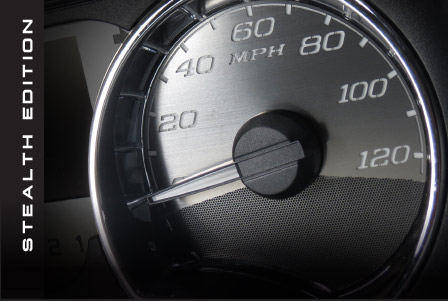 Experience one of the best selling product lines from US Speedo. With its black anodized coating and white or blue night time lighting,  the 100% stainless steel Stealth Edition is the most unique gauge face kit on the market.
Shop Stealth Edition
US Speedo Daytona Edition Custom Gauge Face
The Daytona Edition is, without a doubt, the highest quality polycarbonate gauge face available. Daytona Edition Faces are a great upgrade from OEM with a sportier graphic style and several custom colors available!
Shop Daytona Edition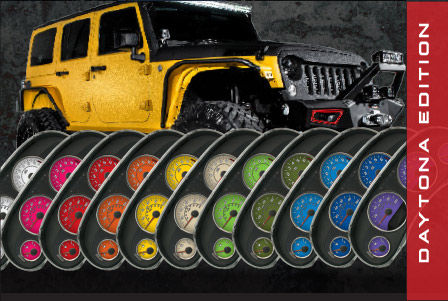 US Speedo Escalade Edition Custom Gauge Face Kit
Change the look of your stock GM truck into the elegant look of an Escalade with this kit! US Speedo has specifically designed an escalade gauge face kit for your exact truck. 1500, 2500, GAS, diesel, MPH, and KMH versions in stock! These kits are avaialable for 1999-2007 GM trucks and SUV's.
Shop Escalade Edition
US Speedo Custom Speedometer Needles
US Speedo's Custom and Replacement needle kits are the perfect way to finish your custom gauge face install. With so many colors and styles to choose from, You'll find the right set to fit your style.
Shop Speedometer Needles
US Speedo LED Speedometer Lighting Kits
Tired of the dim factory lighting in your car or truck's dash?  Light bulb burned out? Want that custom nighttime color? Now US Speedo has the best solution…Upgrade your factory dash to virtually everlasting LEDs! Our 4 easy to install upgrade kits will replace your old bulbs with the very latest in LED lighting technology!
Shop LED Kits
US Speedo Custom Speedometer Lenses
Complete your interior gauge transformation with a new lens from US Speedo! All NEW Lens designs are available. If you want a custom look for your GM, Ford, or Dodge Truck or SUV, US Speedo has you covered. Lenses are available for most newer GM, Ford and Dodge trucks and SUV's.
Shop Speedometer Lenses